KraussMaffei supports Nantong Zhonglan Engineering Plastics production increase plan
Latest News: Recently, KraussMaffei and Nantong Zhonglan Engineering Plastics Co., Ltd. (hereinafter referred to as "Nantong Zhonglan") formally signed a purchase agreement, and obtained the company's 56,100 tons/year high-performance Purchase order for the Twin Screw Extruder Lot II of the Composites Project. KraussMaffei and Nantong Zhonglan are both subsidiaries of Sinochem. The cooperation between the two parties fully demonstrates the spirit of internal synergy advocated by Sinochem. Based on the cooperative relationship, the two parties will cooperate closely and work together to jointly promote Technological progress in related industries, deepen innovation development and market application, and empower a sustainable green future with high-efficiency and low-carbon products and solutions.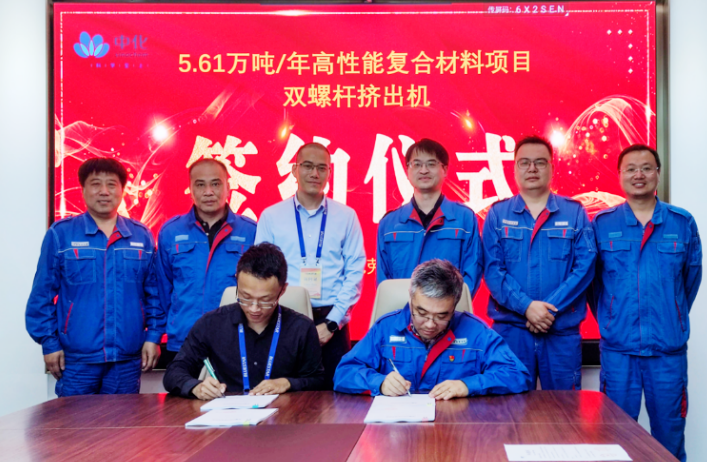 With the acceleration of the goal of "carbon peaking and carbon neutrality", advanced solutions that take into account quality improvement and efficiency enhancement, energy saving and environmental protection have become the first choice for manufacturing enterprises. The KraussMaffei Gold Power® twin-screw extruder series solution is an important achievement of KraussMaffei's local R&D innovation. With its advantages of high production capacity, excellent product performance, excellent stability and lower energy consumption, stand out among the many proposals.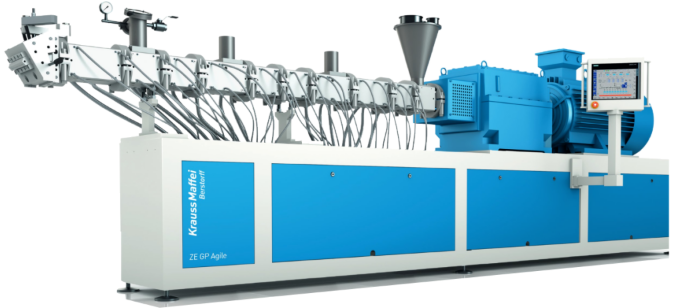 KraussMaffei Gold Power® twin-screw extruder
2022 is the second year of the establishment of "New Sinochem". The new organizational structure brings new missions and opportunities. Sinochem China has always advocated internal collaboration and cooperation. With its rich industrial chain and industrial pedigree, companies within the group support and cooperate with each other to further explore and integrate their respective advantageous resources, improve supply chain security and anti-risk capabilities, so as to provide various The high-quality development of the company and even the entire group provides a solid guarantee and broad space.
Cui Xiaojun, general manager of KraussMaffei China, said: "This successful cooperation is a great affirmation and encouragement for us. It is a successful example of intra-group collaboration and fully reflects the advantages of intra-group collaboration and integration. In the future , we look forward to expanding cooperation with more companies within the group to jointly promote synergistic technologies and applications, and jointly shape a sustainable low-carbon future."
Nantong Zhonglan is a well-known supplier of modified engineering plastics in the industry and a wholly-owned subsidiary of Nantong Xingchen Synthetic Materials Co., Ltd. Its products are widely used in electronic appliances, automobile industry, household appliances, new energy and other fields. KraussMaffei provided all-round support for the production line upgrade of Nantong Zhonglan. After fully understanding the needs, a special project team was formed. In May this year, KraussMaffei took the lead in delivering a KraussMaffei Gold Power® ZE62, and it has always maintained a high Horizontal and stable operation. According to the purchase agreement, KraussMaffei will deliver four single extrusion machines to Nantong Zhonglan by the end of 2022, and it is expected to be officially put into production by the end of 2023. The smooth implementation of this project will help Nantong Zhonglan's high-performance composite material production line achieve an annual increase of 56,100 tons, thereby better meeting the growing market demand.
Wang Yongbin, Deputy General Manager of Nantong Xingchen Synthetic Materials Co., Ltd., Executive Director of Nantong Zhonglan, said: "During the cooperation, KraussMaffei has presented innovative technical concepts and professional service quality, and is our trustworthy partner. We look forward to working with Grameen. Rolls-Maffei has more cooperation to accelerate the exploration of new businesses, jointly promote the high-quality development of the rubber and plastics industry, create value for customers, and drive the optimization and upgrading of the entire industry chain."
Nantong Zhonglan and KraussMaffei will further expand the market space and industrial application of Sinochem's engineering plastics products in auto parts, electronic appliances, new energy and other fields through this cooperation, and provide customers with high-quality products and industries. Solutions, with more energy-saving and environmentally friendly green solutions, to accelerate the realization of the "double carbon" goal.