Annual output of 46,000 tons! Gaomeng New Materials Co., Ltd. invested in the construction of an adhesive project, including 32,000 tons of silicone sealant
Latest News: On August 12, Beijing Gaomeng New Materials Co., Ltd. issued an announcement on the investment and construction of a wholly-owned subsidiary of an electronic new energy adhesive project with an annual output of 46,000 tons.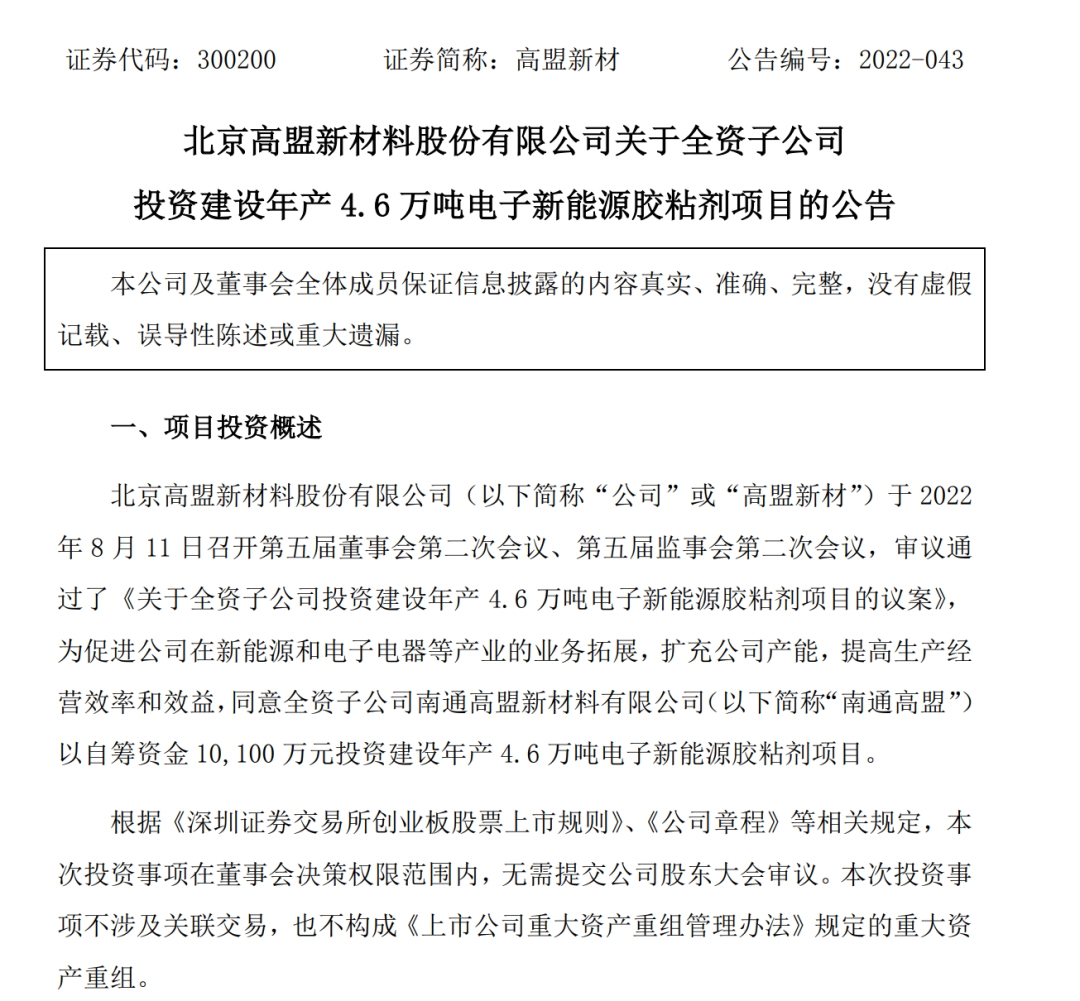 Project implementation body: Nantong Gaomeng New Materials Co., Ltd.
Project name: An annual output of 46,000 tons of electronic new energy adhesive project
Construction site: No. 22, Fengguang Avenue, Chemical Industry Park, Rudong Coastal Economic Development Zone, Jiangsu Province.
Project construction content is proposed as: annual output of 46,000 tons of electronic new energy adhesives, including annual output of 20,000 tons of one-component silicone sealant, 4,000 tons of two-component silicone sealant, organic Silicon modified thermal conductive sealant 8,000 tons, two-component epoxy resin structural adhesive 2,000 tons, one-component epoxy resin structural adhesive 500 tons, acrylic structural adhesive 1,000 tons, UV diluent 50 tons, UV adhesive 450 tons tons, curing agent 10,000 tons.
Total investment, investment estimate and source of funds: The total investment of the project is 101 million yuan, of which the project construction investment is 71 million yuan and the working capital is 30 million yuan. The payback period (including the construction period) is
5.56 years. The source of funds is the self-raised funds of Nantong Gaomeng.
Construction period: The estimated construction period of this project is 1 year.
According to the introduction of Gaomeng New Materials, the large-scale production of high-performance adhesives after the completion of the project will be superimposed on electronic appliances, photovoltaics and other new energy sources, energy storage, new energy vehicles and other transportation, green packaging In other fields, it plays a positive role in promoting the overall technology, process progress and industrial upgrading of the company and the adhesive industry, and at the same time solves the problem that key raw materials are subject to foreign suppliers, which can improve product performance and product performance in terms of cost and stable mass production of products. price advantage.
In addition, Gaomeng New Materials plans to further optimize the product structure and increase the business proportion of the company's products in emerging industries such as new energy, energy storage, and new energy vehicles through the implementation of this project, greatly increase the production and sales scale of the company's adhesives, and improve the company's adhesives The share of the products in the domestic market will consolidate the company's leading edge in the domestic adhesive industry and further improve the company's comprehensive competitiveness and profitability.
The main business of Gaomeng New Materials is divided into three categories
The first is the adhesive material business. Since its establishment in 1999, the company has been focusing on high-performance polyurethane adhesive materials. While providing customers with adhesive material products, it also strives to provide them with personalized, systematic The product types include composite polyurethane adhesives for plastic flexible packaging, ink binders, polyurethane adhesives for high-speed rail, and composite adhesives for reflective materials. The products are widely used in packaging, printing,
Transportation, safety protection, household appliances, building materials and other important industries or fields;
The second is NVH sound insulation, vibration reduction and noise reduction materials, the main products include seals, vibration reduction buffer materials, other automotive related products, etc.;
The third is environmentally friendly coating resins. The main products include powder coating resins, UV coating resins, etc., and downstream applications include home decoration, electronics, base stations, construction machinery, etc.