China Chemical: Four major industrial new material projects have been transferred to production operations
Latest News: On September 19, China Chemical said in response to investors' questions: Up to now, there are caprolactam projects, silicon-based aerogel projects, PBAT projects, adiponitrile projects that have been transferred to production and operation Projects, etc., Tianchen Company, a subsidiary of the company, has established a project company to invest in the first phase of the propylene oxide project, relying on the self-developed HPPO technology that is environmentally friendly and has low-cost advantages.
01 Caprolactam Project
Fujian Tianchen Yaolong New Materials Co., Ltd. was established in February 2012. It is a state-owned joint venture established by China Tianchen Engineering Co., Ltd., a subsidiary of China National Chemical Corporation, and Fuzhou State-owned Enterprise Yaolong Chemical Group Corporation. It is located in Fuqing, Fujian Province. City Jiangyin Industrial Concentration Zone.
The first phase of Tianchen Yaolong invested about 4.2 billion yuan to build a 200,000-ton/year caprolactam project. After technical transformation, the current output has reached 330,000 tons/year. It is currently the world's largest single-line production capacity of caprolactam project production line. It is China National Chemical Engineering Group Corporation Demonstration projects and key projects in Fujian Province. Tianchen Yaolong's revenue in 2021 will reach 5.1 billion.
02 Silicon-based aerogel project
On February 27, 2022, Sinochem Hualu New Materials Co., Ltd., a subsidiary of Sinochem Hualu Company, successfully launched the 50,000 cubic meter silicon-based nano-aerogel composite project in Chongqing Changshou Economic and Technological Development Zone and produced the first batch of Qualified silicon-based nano-aerogel composite thermal insulation felt products.
This is the largest aerogel composite material project with the most advanced technology and the highest degree of automation in China, marking an important step for China Chemical to become a supplier of high-end chemicals and advanced materials.
This project is the first technology-driven industrial project of Hualu Company. The 300,000-square-meter/year silicon-based aerogel composite material project will be constructed in three phases.
03 100,000 tons/year PBAT project
On the evening of June 20, the Sinochem Donghua Tianye project with an annual output of 500,000 tons of PBAT and the first phase of its supporting project with an annual output of 100,000 tons of PBAT invested and constructed by Donghua Company, a subsidiary of Sinochem, was successfully started at one time and successfully produced high-quality products. The performance indicators of PBAT polyester products are better than the national standards.
On March 26, 2021, a grand ground-breaking ceremony was held at the site of the first-phase project of Sinochem Donghua Tianye New Materials Co., Ltd. with an annual output of 500,000 tons of PBAT and supporting projects. Sinochem Donghua Tianye is a joint venture established by Donghua Technology and Xinjiang Tianye, with Donghua Technology accounting for 51% of the shares and Xinjiang Tianye accounting for 49%.
The construction scale of the first phase of the project is 100,000 tons per year. The total investment of the first phase is about 650 million yuan, and the construction investment is 520 million yuan. It covers an area of ​​about 150 acres and is expected to be constructed for one year; The planning of a 300,000-ton BDO project is also underway.
The PBAT project is the first industrial project between Shihezi City, the Eighth Division of Xinjiang Production and Construction Corps, and a central enterprise, and it is also the "No. 1 Project" of the Eighth Division.
04 Adiponitrile Project
On July 31, Sinochem held a successful commissioning ceremony at Tianchen Qixiang Nylon New Material Co., Ltd. in Zibo to celebrate the successful completion of the whole process of the first phase of the key equipment of the first domestic butadiene-based adiponitrile industrial production project. Produce premium products.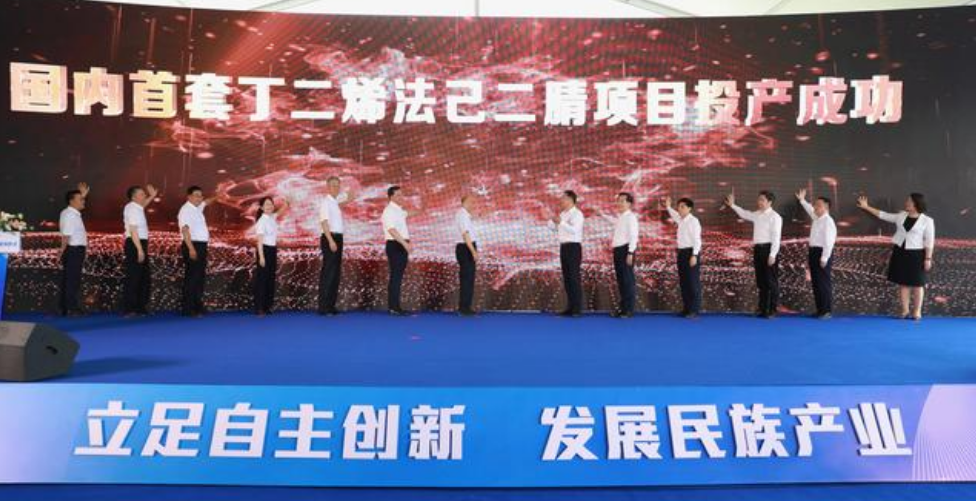 In 2015, Sinochem's 50-ton/year adiponitrile pilot plant was successfully started up; in 2017, the 2,000-ton/year adiponitrile full-process pilot plant was successfully started up.
On July 26, 2019, China Chemical announced that it will invest in the construction of a new nylon material project with an annual output of 1 million tons in Zibo Qilu Chemical Industrial Park, including an annual output of 300,000 tons of acrylonitrile co-production of hydrocyanic acid, and an annual output of 50,000 tons of cyanide. Sodium chemical plant, hydrocyanic acid plant with an annual output of 90,000 tons, adiponitrile plant with an annual output of 200,000 tons, hydrogenation plant with an annual output of 200,000 tons, and PA66 salt-forming and slicing plant with an annual output of 200,000 tons.
China Chemical has always been in the leading position in the domestic industry in the field of chemical construction engineering, and has strong competitiveness in the international engineering market. Since 1995, the company has been continuously published as one of the top 250 contractors in the world by the American authoritative publication "Engineering News Record" (ENR).
China Chemical Engineering adheres to "innovation-driven", actively develops industrial business, explores the integrated development model of "technology + industry", takes technology research and development as the "core", drives engineering and industrial development, and focuses on high-performance fibers, special synthetic rubber, The research and development of new chemical materials such as engineering plastics and special chemicals realizes the organic combination of "industrial feedback, R&D support, engineering optimization, and industrial upgrading".