Hexion Chemical will officially change its name to Wesley from September 1st
Latest News: From February 1, 2022, Westlake (Westlake Chemical) has completed the acquisition of Hexion (Hexion Chemical) epoxy resin business, which is now renamed "Westlake"
Epoxy". Hexion will continue to provide transition services for Westlake Epoxy from September 1, 2022. During this period, Westlake Chemical has taken the necessary steps to transfer Westlake Epoxy
Epoxy was established independent of Hexion and became part of the Westlake Chemical Group of Companies.
The notice is as follows: The legal name of "HEXION MANAGEMENT (SHANGHAI) CO., LTD" (Hexion Chemical Enterprise Management Shanghai Co., Ltd.) has been changed to "Westlake
Management(Shanghai) Co.,Ltd" (Weisilei Enterprise Management (Shanghai) Co., Ltd.).
This means that from September 1, 2022:
All purchase orders will be issued by Wesley Enterprise Management (Shanghai) Co., Ltd.;
All orders are subject to the terms and conditions of purchase of Wesley Enterprise Management (Shanghai) Co., Ltd. unless otherwise agreed in writing;
The supplier needs to update the customer name setting and use the new name for invoicing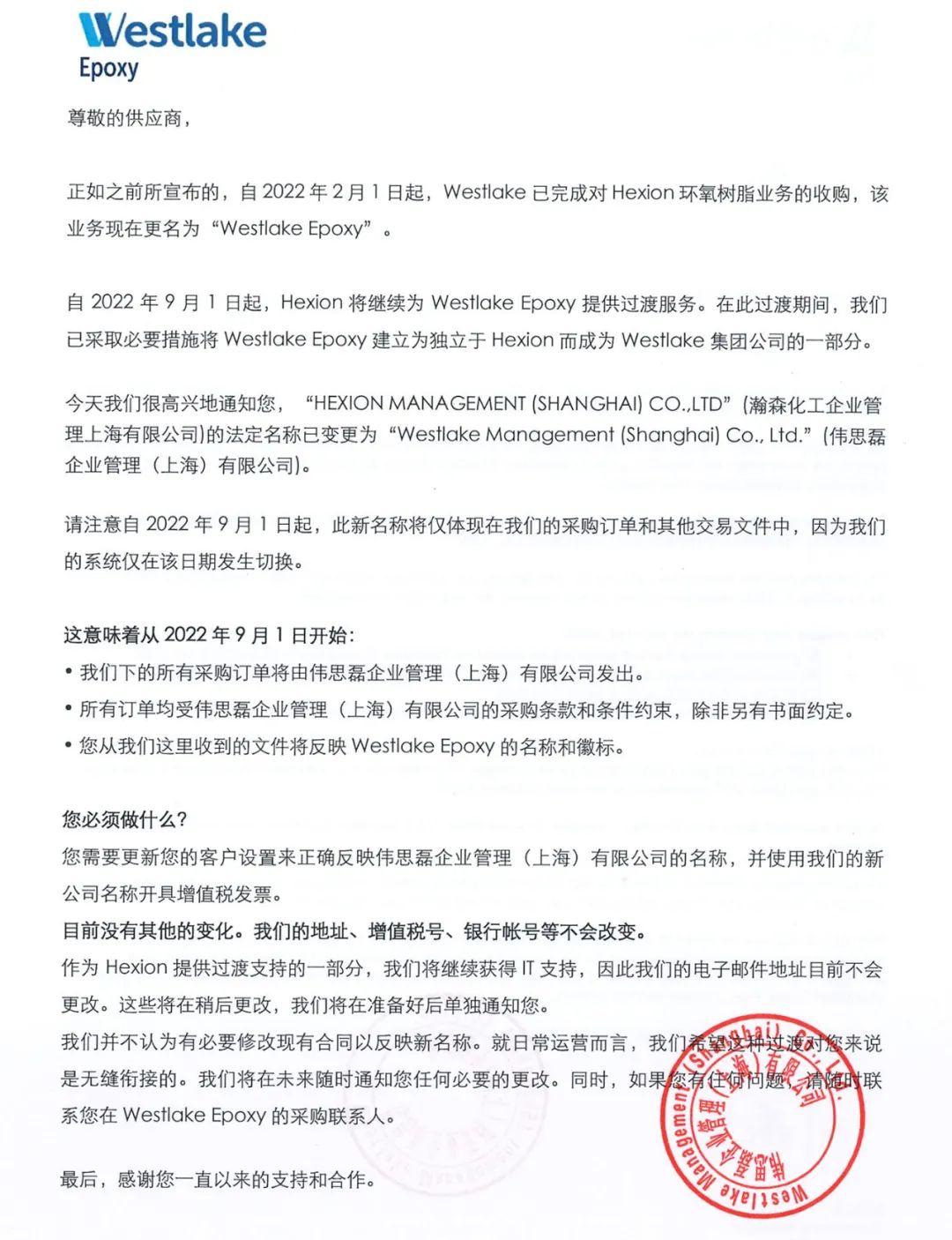 Hexion has changed its name five times in its history
Shell resin, acquired by Apollo Group in December 2000, changed its name to Ruiyi Excellent Products Company. Since the first successful mass production of epoxy resin in 1948, the company has been an epoxy resin, curing agent and a leader in the tertiary carbonic acid derivatives industry.
In 2005, Apollo formed Hexion Chemical by integrating several companies such as Bolton Chemical and Foresight Excellence. In September 2010, Apollo merged its subsidiary Hexion Specialty Chemicals and Momentive Performance Polymers. The new company was named Momentive Specialty Chemicals, but after 2015, the company name was restored. For Hexion Specialty Chemicals. In 2021, Hexion Holdings will be split into two separate companies named "Hexion"
Holdings" ("Hexion Holdings") and "Hexion Coatings and Composites (US)
Inc." (will be renamed later, "HCC" for short). The former is produced by the company's adhesives, Versatic
The Acids™ and Derivatives family of products comprises the company's Epoxy Coatings and Composites business unit. In 2022, Hexion Chemical's epoxy resin business was sold to Westlake Chemical.