LANXESS completes acquisition of IFF's microbial control business
Latest News: On July 1, Lanxess' official website announced that the company has completed the acquisition of the microbial control business unit of International Flavors and Fragrances (IFF). LANXESS is now one of the world's largest suppliers of microbiological control and sterilization products.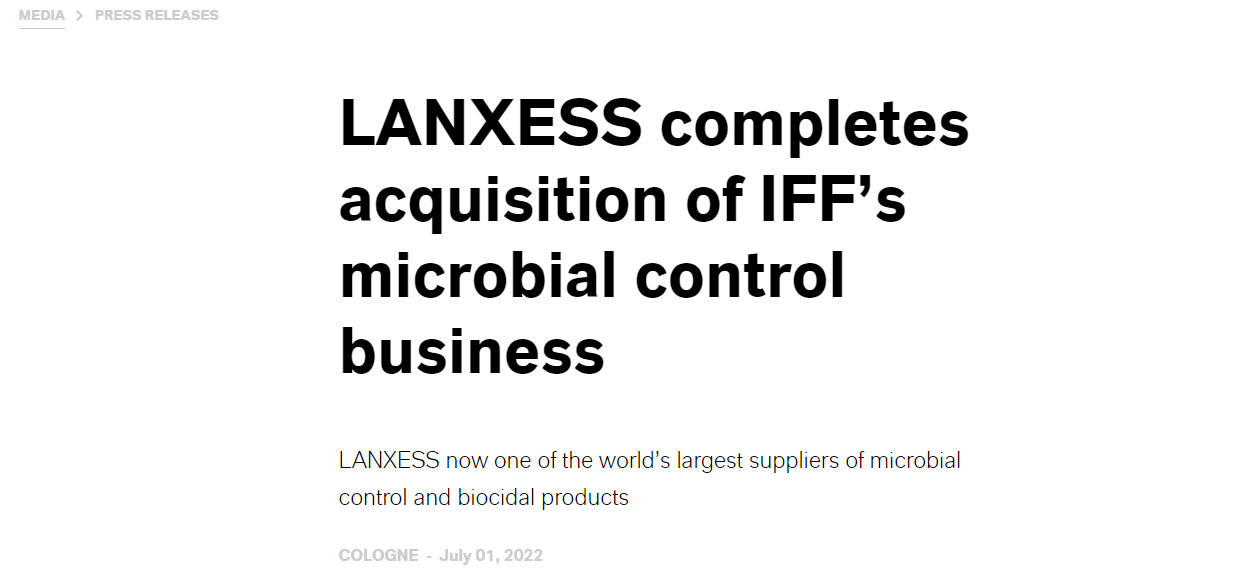 With the closing of the transaction announced in August 2021, LANXESS has become one of the world's largest suppliers of microbiological control products. The specialty chemicals company is significantly increasing its portfolio of antimicrobial actives and formulations for material protection, preservatives and disinfectants, and is strengthening its global presence, especially in the United States. LANXESS paid an initial purchase price of about $1.3 billion for the acquisition.
"With this acquisition, our consumer protection division has received another major boost. It will soon become our strongest segment and therefore an important engine for making LANXESS even more stable and profitable," said LANXESS AG Matthias Zacht, chairman of the company's management board, said. "We are delighted to have over 250 highly qualified new employees and are now focusing on the rapid integration of the newly acquired business."
With the closing of the transaction, LANXESS has added two production sites to its network of research institutes in St. Charles, Louisiana, and West Virginia. The new business will be integrated into LANXESS's Materials Protection Products business unit.
The perfect complement to your material protection business
"By combining LANXESS and the acquired businesses, we are now building a robust and broad product and technology platform for microbial control and biocides, from active ingredients to robust formulations. This enables us to offer our customers more application-oriented solutions and strengthen our value chain," said the head of the Materials Protection Products business unit
Michael Schaefer said. "The microbial control business also gives us access to new technologies and additionally strengthens our regulatory position."
Strong and Diversified New Portfolio
The acquisition brings strategic bactericidal actives, a large registration package and a strong brand that fits perfectly into the LANXESS microbial control portfolio.
LANXESS is also strengthening its position as a global leader in industrial preservatives and one of the largest suppliers of isothiazolinone preservatives. LANXESS' Preventol product with newly acquired Kathon, Bioban
Combined with the Rocima brand, it forms one of the broadest product portfolios for paints and coatings, building materials, wood preservation, leather and plastics, for both wet and dry preservation.
LANXESS has further added silver-based technologies to its product portfolio and now offers complete solutions for the antimicrobial treatment of textiles. Silvadur
Branded silver ion products prevent or reduce odors in natural or synthetic fibers.
LANXESS also benefits from the addition of phenoxyethanol to its already large portfolio of personal care and household preservatives. In addition to isothiazolinone and sodium benzoate, phenoxyethanol is another pillar of the company's customer preservation strategy, providing customers with customized solutions that allow them to adapt to growing regulatory challenges.