Lead the development of the industry! Dawn polymer new material project started
Latest News: On the morning of June 14th, the groundbreaking ceremony of Dawn's new polymer material project was held in Shandong Longkou New Materials Science and Technology Industrial Park, which was constructed and managed by Dawn.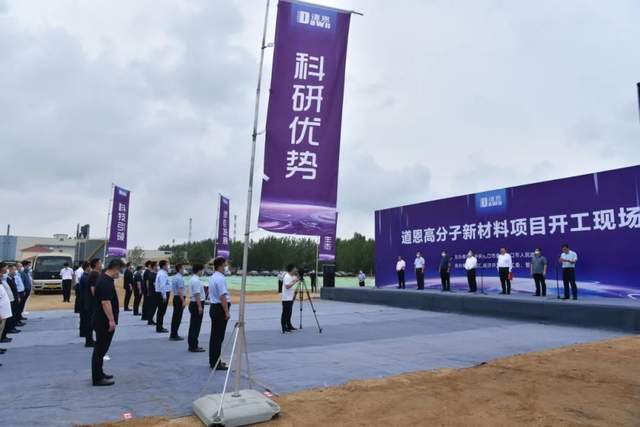 The project has a total investment of 1 billion yuan, with a new building area of ​​176,000 square meters, new production lines for biodegradable modified plastics, new energy vehicle materials, 5G communication materials, etc., and more than 800 high-end production equipment (sets) have been purchased. The new polymer composite materials are 360,000 tons, and the products are mainly used in high-end fields such as aerospace, rail transit, medical and health care, automotive appliances, and communication electronics.
Dawn Group was founded in 1991. In January 2017, Dawn shares were successfully listed on the Shenzhen Stock Exchange. Shandong Daon Polymer Materials Co., Ltd. was established on December 6, 2002, specializing in the research and development, production, sales and service of high-performance thermoplastic elastomers, modified plastics, masterbatches, meltblown materials and other polymer materials. National high-tech enterprise.
Recent projects by Dawn Group
On March 11, Shandong Daon Polymer Materials Co., Ltd. and Daxin Sub-district Office, Jimo District, Qingdao signed the "Biodegradable Material Project Investment Cooperation Agreement". The agreement stipulated that the company plans to invest 500 million yuan to build in Jimo District, Qingdao. Dawn Biodegradable Materials Project.
In 2021, Shandong Daon Polymer Materials Co., Ltd. will raise funds through a non-public offering of stocks to build a 120,000-ton/year full biodegradable plastic PBAT project, as well as the Southwest Base Project of Daon Co., Ltd. Southwest Headquarters Base Project (Phase I), which is planned to be located in Chongqing. Build a 100,000 tons/year modified plastics plant.