Covestro K 2022 showcases new materials, recycling technologies for circular economy and climate neutrality
Latest News: At K 2022 this year, Covestro will showcase a number of new materials, recycling technology solutions that support a circular economy and critical areas of climate neutrality.

Covestro is exhibiting a variety of new materials, recycling technology solutions at K 2022.
Climate neutral raw materials for thermal insulation
Covestro mainly replaces raw materials with mass-balanced renewable precursors and plastic waste. Such as offering "cradle to gate" climate neutral MDI. Sustainable MDI can be used in existing process technologies in the construction, refrigeration and automotive industries without any major changes.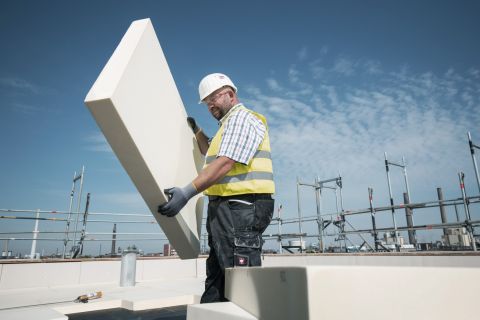 Rigid PU foam for building insulation, produced by Covestro's climate-neutral MDI.
Taking a refrigerator as an example, it is not only necessary to further improve the thermal insulation performance, but also to have as much internal space as possible to store items, while reducing the external dimensions of the refrigerator.
In this regard, PU vacuum insulation panel solutions made of sustainable MDI are even more advantageous: they take up very little space, but offer efficient thermal insulation while reducing energy consumption and CO2 emissions.
PU VIP reduces carbon footprint even after reaching the end of its useful life: thanks to the use of PU, the refrigerator is made of only a few different materials, making it easier to recycle.
Advanced mechanical and chemical recycling
Covestro will also be in K
At the 2022 exhibition, it will showcase its technological progress in waste plastic recycling. The company has been focusing on field-proven mechanical recycling technologies, in which the chemical structure of the plastic remains unchanged, and chemical recycling processes, in which polymer molecules are chemically broken down.
Mechanical recycling is especially useful for PCs. Numerous mechanically recycled products from Covestro are already on the market, including polycarbonate blends for IT products with a recycled content of up to 75%, in addition to mass-balanced raw materials.
PU and other thermoset products generally cannot be mechanically recycled. There is a clear need for a chemical recovery process. As part of a collaborative research project with partners, Covestro has developed two core raw material innovations for recycling PU mattress foam.
The two core materials are polyol and isocyanate TDI. Precursors are recovered from TDI, and both raw materials can be reused to produce new foams after processing. The results obtained are being tested on a pilot unit at Covestro's Leverkusen plant. Covestro has now introduced the Evocycle brand name for the project.