Double Elephant: Revenue and profit in the first half of 2022 both decreased year-on-year
Latest News: On August 23, Wuxi Shuangxiang Microfiber Materials Co., Ltd. (hereinafter referred to as: Double Elephant) released its 2022 semi-annual report. According to the announcement, from January to June 2022, Shuangxiang achieved operating income of 656 million yuan, a year-on-year decrease of 6.86%, net profit attributable to shareholders of the listed company was 8.3189 million yuan, a year-on-year decrease of 80.67%, and earnings per share was 0.0310 yuan.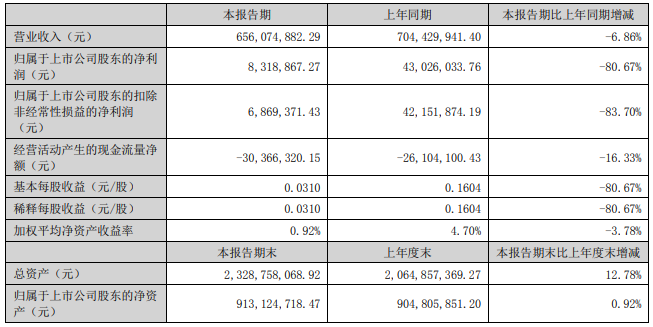 According to public information, Shuangxiang Co., Ltd. was established in December 2002 and listed on the Shenzhen Stock Exchange on April 29, 2010. Its main business is the production and sales of microfiber ultra-real leather, PU synthetic leather, and PVC artificial leather. Material processing and "three to one supplement" business. It is also the first domestic-funded enterprise in my country to realize large-scale mass production of high-end optical-grade PMMA materials. The current production capacity of optical-grade PMMA materials is 80,000 tons/year.
According to the announcement, Shuangxiang shares belong to the artificial leather and synthetic leather industry. During the reporting period, in terms of products, the revenue of PVC products decreased by 100%, the revenue of PU products decreased by 51.31%, the revenue of microfiber products decreased by 28.99%, and the revenue of PMMA sheets decreased by 25.31%. 5.61%.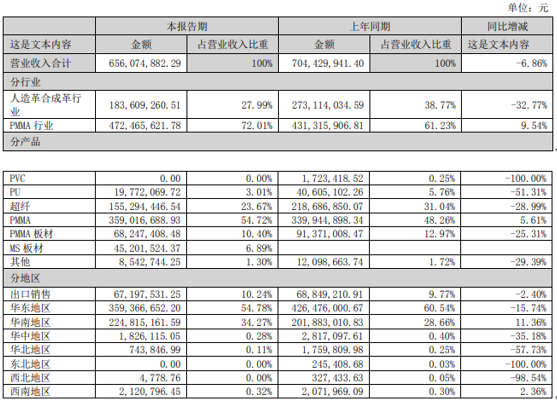 In the announcement, Shuangxiang shares also stated that the new crown epidemic continues to raging around the world, and the epidemic control measures may affect the instability of the company's production and logistics, resulting in the risk of insufficient production and customer loss. At the same time, the company's export sales are mainly settled in US dollars. With the continuous increase of the company's export business volume, the company may increase exchange rate risks due to exchange rate fluctuations.
In addition, fluctuations in the prices of major raw materials will also affect the company's production costs, thereby increasing the company's operating risks. The company will continue to develop high-tech, high-margin new products on the market, increase product prices, improve process formulas, adopt alternative materials, save costs and other measures to cope with rising raw material prices, and respond to raw material prices through on-demand procurement and other measures. It can better control the operating risks caused by fluctuations in raw material prices.