Dow and Amcor sign a strategic cooperation agreement to jointly promote the sustainable development of plastic flexible packaging in China
Latest News: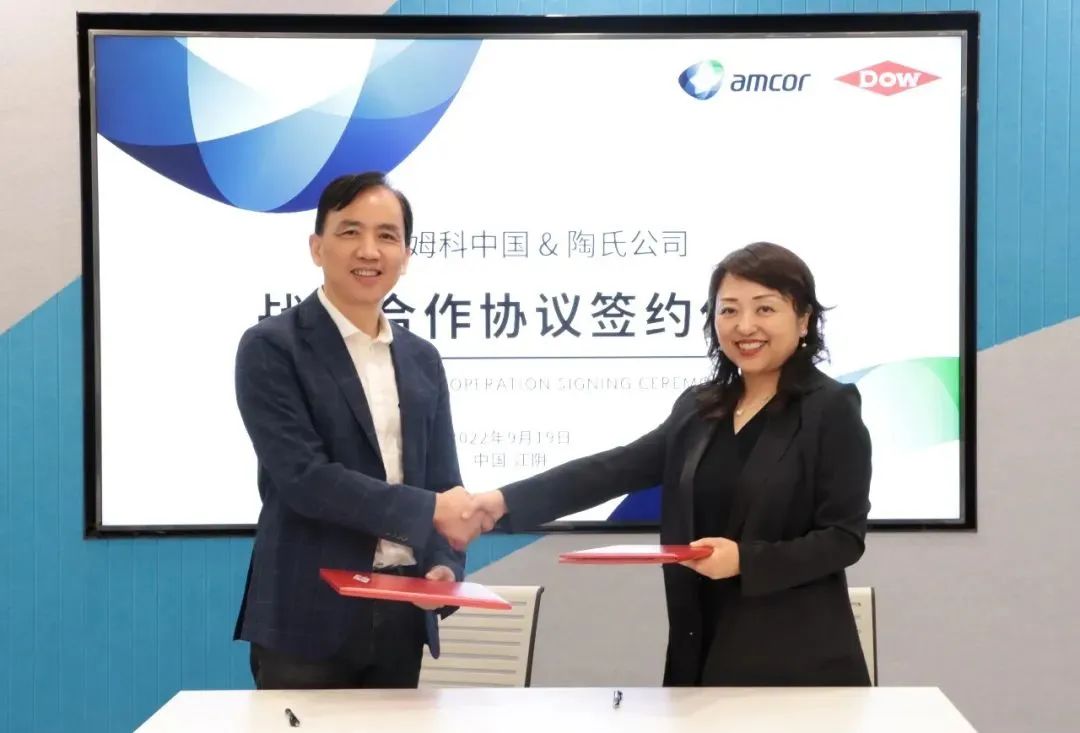 ▲Picture: Ms. Huang Yingxue, Senior Commercial Director of Dow Packaging and Specialty Plastics Greater China, and Mr. She Xin, President of Amcor Greater China, signed a strategic cooperation agreement on behalf of both parties
September 19, 2022—The Dow Corporation (NYSE: DOW), the world's leading materials science company, and the Amcor Group, the world's leading consumer packaging company, held a signing ceremony at the Amcor Asia Pacific R&D Center. China has reached a strategic partnership. The cooperation aims to jointly accelerate the development and promotion of recyclable packaging, explore the application of post-consumer recycled resin (PCR) made by mechanical and advanced recycling methods, and explore the use of bio-based plastics, and jointly promote plastic flexible packaging in China. sustainable development of the market.
As a durable, lightweight and cost-effective solution, plastic flexible packaging is widely used in the food, beverage, home and personal care, pharmaceutical and other industries. However, balancing the functionality and sustainability of plastic flexible packaging is a core challenge for brands. Dow and Amcor signed this strategic cooperation agreement precisely to help brands develop, verify and commercialize packaging solutions with a lower carbon footprint that meet usage needs more quickly through industry chain cooperation.
Senior Commercial Director, Greater China, Dow Packaging & Specialty Plastics Yingxue Huang:
"The cooperation between Dow and Amcor is not only for win-win cooperation, but also to fulfill the commitment of the two international companies to sustainable development as industry leaders. We see that more and more domestic and foreign brands have formulated Sustainable development goals, and a commitment to adopting more recyclable packaging and reducing the use of virgin resin. With more than a century of innovation in materials science, Dow has accumulated a wealth of knowledge and experience in the field of recyclable packaging and PCR. Tao The cooperation between Amcor and Amcor can more efficiently provide brands with a full range of sustainable packaging solutions, while taking into account the needs of packaging functions in different industries."
Amcor Group President, Greater China She Xin:
"At present, the ability of sustainable development has become the core competitiveness of the company. Amcor Group will continue to increase investment in R&D, actively integrate global R&D resources, and continue to provide our customers and the market with responsible and innovative packaging solutions. To promote the sustainable development process of China's packaging and consumer industries. This cooperation with Dow will not only further consolidate Amcor's leading position and competitive advantage in the flexible plastic packaging market, but also promote closer cooperation in the industrial chain, enabling Flexible plastic packaging that is more environmentally friendly, easier to recycle, and easier to regenerate is more quickly commercialized by more brands, and is noticed and loved by more consumers."
This strategic agreement not only covers product application and market development, but the two parties will also jointly explore more opportunities for cooperation with the upstream and downstream of the industry chain, so as to promote the popularization of recyclable packaging more widely, and from production, use, recycling and reuse, etc. Links help plastic flexible packaging accelerate towards a circular economy.
About Dow
The Dow Company (NYSE: DOW) combines global presence, asset integration and economies of scale, focused innovation and materials science expertise, leading business positioning, and environmental, social and governance (ESG) leadership , to achieve profitable growth and build a sustainable future. The company aims to be the world's leading materials science company in innovation, customer orientation, inclusion and sustainability. Dow's portfolio of plastics, industrial intermediates, coatings and silicones provides a broad range of differentiated, technology-based products and solutions to customers in high-growth markets such as packaging, infrastructure, transportation, and consumer applications. Dow operates 104 manufacturing sites in 31 countries and regions around the world and employs approximately 35,700 people worldwide. Dow will achieve about $55 billion in sales in 2021.
About Amcor
The Amcor Group is a global leader in consumer packaging, providing responsible packaging solutions for the food, beverage, pharmaceutical, medical device, home and personal care and functional films industries. As a multinational group headquartered in Zurich, Switzerland, Amcor has 220 factories in 43 countries, approximately 44,000 employees, and is listed on the New York Stock Exchange (ticker symbol "AMCR") and the Australian Securities Exchange (ticker symbol "AMCR") "AMC") are listed at the same time. In fiscal 2022, Amcor Group sales will be approximately $15 billion and growing. Amcor is the first global packaging company to commit to developing all packaging to be recyclable or reusable by 2025. There are about 300 million Amcor packaging applications in the Chinese market every day, and every consumer may come into contact with Amcor packaging products almost every day.