Dow's debut at the 2022 Guangzhou International Lighting Exhibition, innovative lighting material science to light up a sustainable future
Latest News:August 3rd, 27th
The Guangzhou International Lighting Exhibition (GILE) was officially opened at the Guangzhou China Import and Export Fair Complex. Dow made a grand appearance with its innovative lighting material solutions, fully demonstrating its leading integration in the fields of automotive lighting and general lighting. Material Solutions Capability. In the field of automotive lighting, Dow's rich product matrix brings a full range of ideal choices for automotive intelligent lighting systems and automotive lamp assembly; benefiting from the advanced technical requirements and stringent standards in the automotive lighting field, Dow's innovative material science It shows wider adaptability in the field of general lighting, and empowers the intelligent and sustainable transformation of the global lighting industry with strong strength.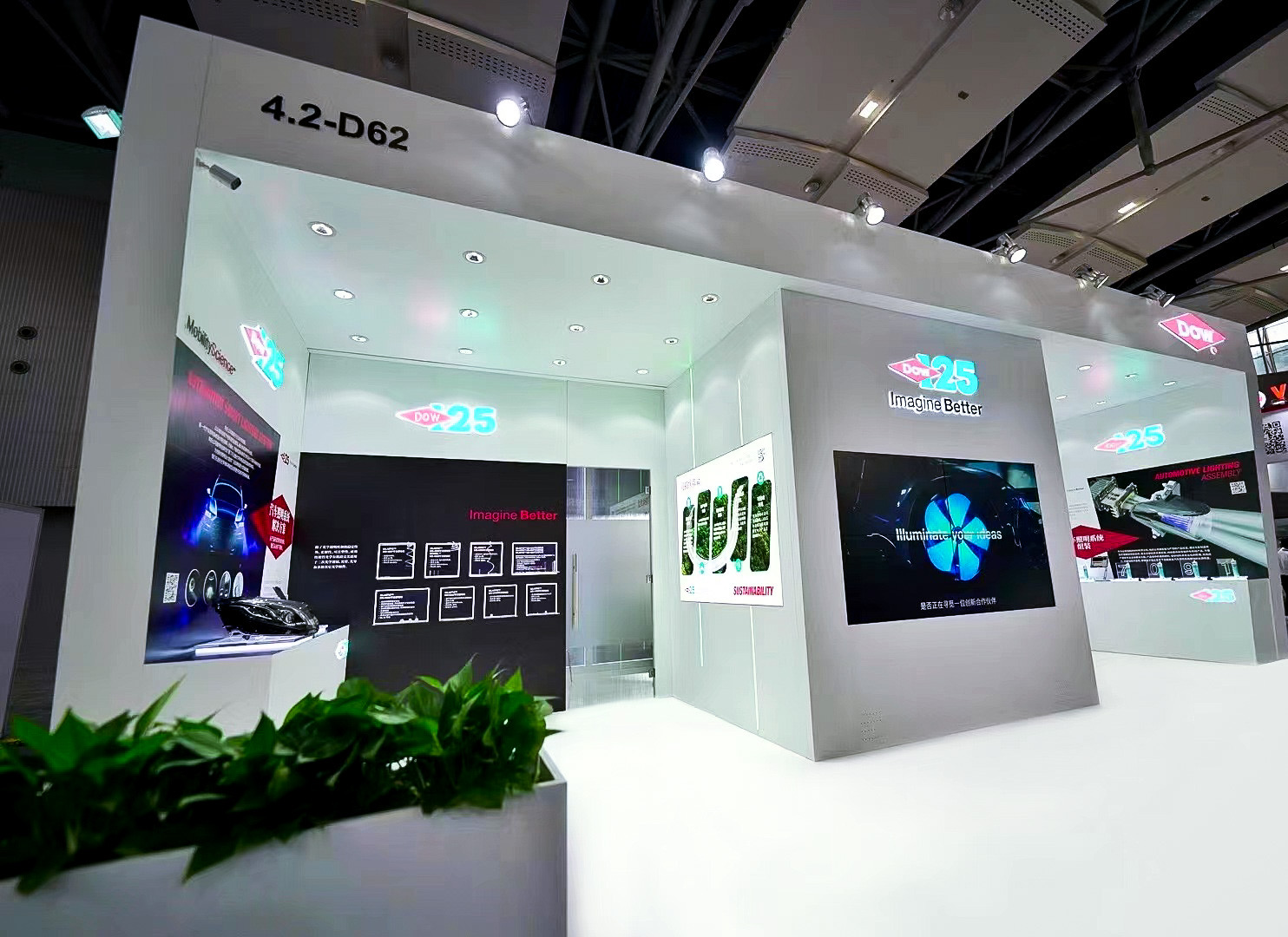 Innovative and sustainable solutions in the field of automotive lighting promote industrial upgrading
With the steady rise of the automotive market, automotive lighting has also ushered in a period of rapid growth. Driven by the wave of intelligence and energy conservation and environmental protection in the automotive industry, the intelligence and sustainability of automotive lighting systems are also continuously improving, which puts forward higher requirements for the durability, processing performance and sustainability of automotive lighting materials. Matrix lens manufacturers are looking for solutions to produce high-quality, high-performance lighting accessories with higher yields and fewer preventative maintenance cycles.
Dow's new SiLASTIC™ at the show
MS-5002 can be injection molded optical silicone, which is tailor-made for intelligent automotive lighting systems that pursue high performance and high processing efficiency. This special liquid silicone rubber (LSR) material can be used in the light pipes of automotive adaptive high beam (ADB) systems. Its simple geometry is more suitable for efficient production processes than glass and plastic. The material can effectively reduce weight and reduce the energy consumption required for production; at the same time, the material's excellent mold anti-fouling ability can also greatly reduce production problems such as downtime and surface degradation caused by mold contamination, making the production cycle frequency similar. It is 4 times higher than the existing products, and the production efficiency is greatly improved. In addition to outstanding mass production advantages, the material also has performance advantages such as high transparency and yellowing resistance, which can fully release the light energy output of LED lamps and provide a wider process window.
In addition to outstanding optical materials for automotive intelligent lighting systems, Dow, which is committed to providing integrated solutions, also brought a variety of automotive lamp assembly materials to this exhibition. Among them, DOWSILTM thermal conductive materials can help LED lamps resist environmental pollution and thermal damage with mature silicone technology; DOWSILTM silicone thermal conductive adhesives and sealants are durable, low-stress elastomers, which can ensure long-lasting reliable performance. At the same time, it increases design flexibility and provides excellent bonding and sealing effects for a variety of common LED lighting materials; DOWSIL™
7091 Sealant is designed for applications requiring strong but flexible bonding, and exhibits excellent performance in stable and flexible applications in automotive lighting.
Excellent product performance fully meets the lean requirements of general lighting field
Dow's innovative and excellent lighting material science fully meets the stringent process accuracy and optical performance requirements of the automotive lighting field, so it has a wider range of matching and adaptability for the general lighting field.
DOWSIL™ EI
-2888 Primerless Silicone Encapsulant is an optically clear silicone for professional LED lighting, suitable for circuit board encapsulation in explosion-proof and high-protection-rated lamps, benefiting from excellent room temperature curing capabilities and Dow's advanced Silicone technology, the material provides superior optical properties without compromising other properties and offers unique rheological properties that allow it to be flexibly used in lamps of all shapes and forms. In addition, the highly transparent, high-strength SiLASTIC™
ET-7021
Silicone rubber for LED strips, as well as innovative materials covering a wide range of general lighting fields such as plant lighting and household UV-C lamps, all fully and efficiently meet market demands with outstanding performance advantages and achieve diversified solutions.
With the continuous advancement of the intelligentization of the automobile industry and urban construction, intelligent control and green energy saving have become mainstream development trends in both automotive lighting and general lighting. Relying on proven technical strength and forward-looking strategic vision, Dow Company adheres to the "Seek
Together" concept, it is committed to providing a delicate combination of processing performance, optical performance and material texture with innovative lighting material science, achieving a better balance between technical craftsmanship and sustainability, so as to work with partners to jointly light up the sustainable future of the industry.