DuPont's Q2 2022 Sales Increase 7% to Exceed $3.3 Billion, Profit Increases Year-on-Year
Latest News: On the afternoon of August 3, DuPont released its second quarter 2022 financial results report. Second-quarter net sales totaled $3.3 billion, up 7% year over year (organic sales up 9% year over year); operating earnings before interest, taxes, depreciation and amortization (EBITDA) of $829 million, up 6% year over year (EBITDA margin was flat year-over-year and quarter-over-quarter); adjusted U.S. stock income was $0.88, an increase of 11% over the same period last year. DuPont also returned about $665 million to shareholders through $500 million in share repurchases and about $165 million in dividends.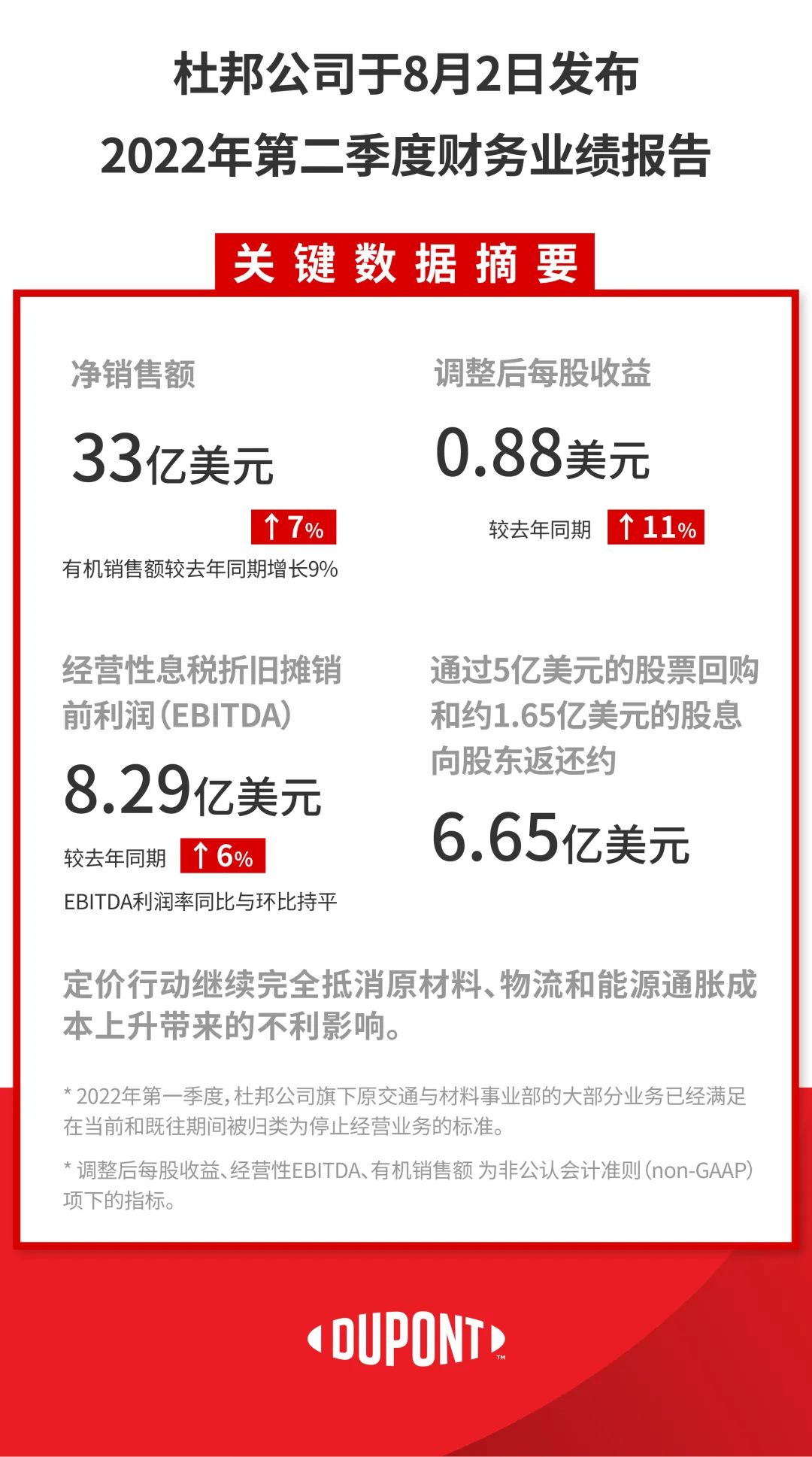 DuPont's performance was supported, with major price hikes continuing to fully offset the headwinds of higher costs for raw materials, logistics and energy inflation. Ed Pu Ruiting, Executive Chairman and Chief Executive Officer of DuPont
Breen) said, "In the face of ongoing ongoing global supply chain and logistics challenges and chronic inflationary pressures, we delivered strong second-quarter financial results through a close focus on pricing actions and operational excellence. This quarter, our major terminals The underlying demand in the market remains strong. In an uncertain macro environment, the year-on-year and quarter-on-quarter growth in sales and earnings is testament to our strong business portfolio, deep customer relationships and leading global market position.
We continue to move forward with a series of previously announced portfolio realignment actions, including
Corporation) and divested most of the Transportation and Materials business. We expect to complete the acquisition of Rogers Corporation in the third quarter of 2022, and we are currently actively cooperating with relevant regulatory approvals in China, the last jurisdiction involved in this acquisition. In addition, the sale of part of the Transportation and Materials business unit to Celanese is expected to close around the end of the year.
DuPont is committed to driving innovation investments to support long-term growth, and our key pillars will continue to introduce new products. We are delighted to have won four Edison Awards in 2022 for our innovative technology, and we are also making good progress on a broader line of new products to effectively support growth for years to come. "
Second quarter 2022 business segment performance highlights
Electronics & Industry
Second-quarter 2022 net sales rose 16% to $1.527 billion, with 8% organic growth; segment earnings rose 11%, at exchange rates, thanks to last year's acquisition of Laird Performance Materials produced a 3% adverse effect. Organic sales growth was driven by a combination of 6% volume growth and 2% price increases.
The Semiconductor Technology business achieved organic sales growth in the mid-teens percent, mainly due to continued strong demand, corresponding advanced technology node migration and high capacity utilization, and 5G communications and growth in the data center segment.
The Industrial Solutions business achieved high-single-digit organic sales growth, driven by continued strong demand in healthcare applications such as OLED materials, Kalrez and Vespel products, and biopharmaceutical pipelines.
The Electronic Interconnect Technology business posted a low-single-digit organic decline in sales, primarily due to lower volumes. These negative factors offset and outweigh the industrial end market due to expectations that the smartphone market will return to normal seasonal ordering patterns compared to last year, coupled with slowing smartphone demand in China, and weakness in the PC and automotive end markets sales growth.
Water Treatment and Protection
Net sales for the second quarter of 2022 increased 6% to $1.497 billion, with organic growth of 9%, resulting from a combination of 12% price increases and 3% volume declines. The price increase reflects broad-based action across the segment to offset persistent cost inflation. Foreign exchange rates adversely affected the segment's net sales by 3%.
The Building Solutions business posted high-single-digit organic sales growth in the mid-teens, primarily driven by higher pricing, continued strong demand from the North American residential building industry, and continued growth in the commercial building industry.
The Security Solutions business posted organic mid-single-digit sales growth, primarily as lower sales of Tyvek protective clothing partially offset the positive impact of pricing adjustments.
Water Treatment posted high-single-digit organic sales growth driven by continued strong global demand for water treatment technologies and pricing action.