KRAIBURG TPE: Enhance car audio performance with TPE compounds
Latest News:As a world-renowned TPE manufacturer, KRAIBURG TPE®
Committed to providing a wide variety of high-quality thermoplastic elastomer products and custom solutions for a variety of industries, including the Thermoplastic K GP/FG and AD1/AP series tailored for automotive interior applications such as speaker seals and trim covers
TPE compounds.
The global in-vehicle technology market is expected to grow as Volkswagen continues to pursue stable in-vehicle electronic system functions. Technological advancements in the connected car ecosystem, such as audio speaker systems that provide entertainment and information to occupants in the car, will drive consumers to seek a more valuable and seamless user experience.
Manufacturers have been working to optimize the performance and design of entertainment systems by applying interconnected technologies and using breakthrough materials such as thermoplastic elastomers (TPE).
GP/FG Series – Multilayer Solutions for Vehicle Applications
KRAIBURG TPE's THERMOLAST® K GP/FG series compounds are ideal for effective sealing of automotive interiors and loudspeaker systems.
This family of compounds complies with VDA270 (odor), VDA278 (volatile substances and haze), and DIN
75201-B (Haze Test) to help meet stricter automotive interior air quality regulations.
In terms of design, the GP/FG series compounds are super soft and dry to the touch, providing enhanced passenger comfort and luxury.
Other material advantages include easy coloring, especially primary color compounds, excellent mechanical and processing properties, excellent encapsulation of PP, and a wide range of hardnesses.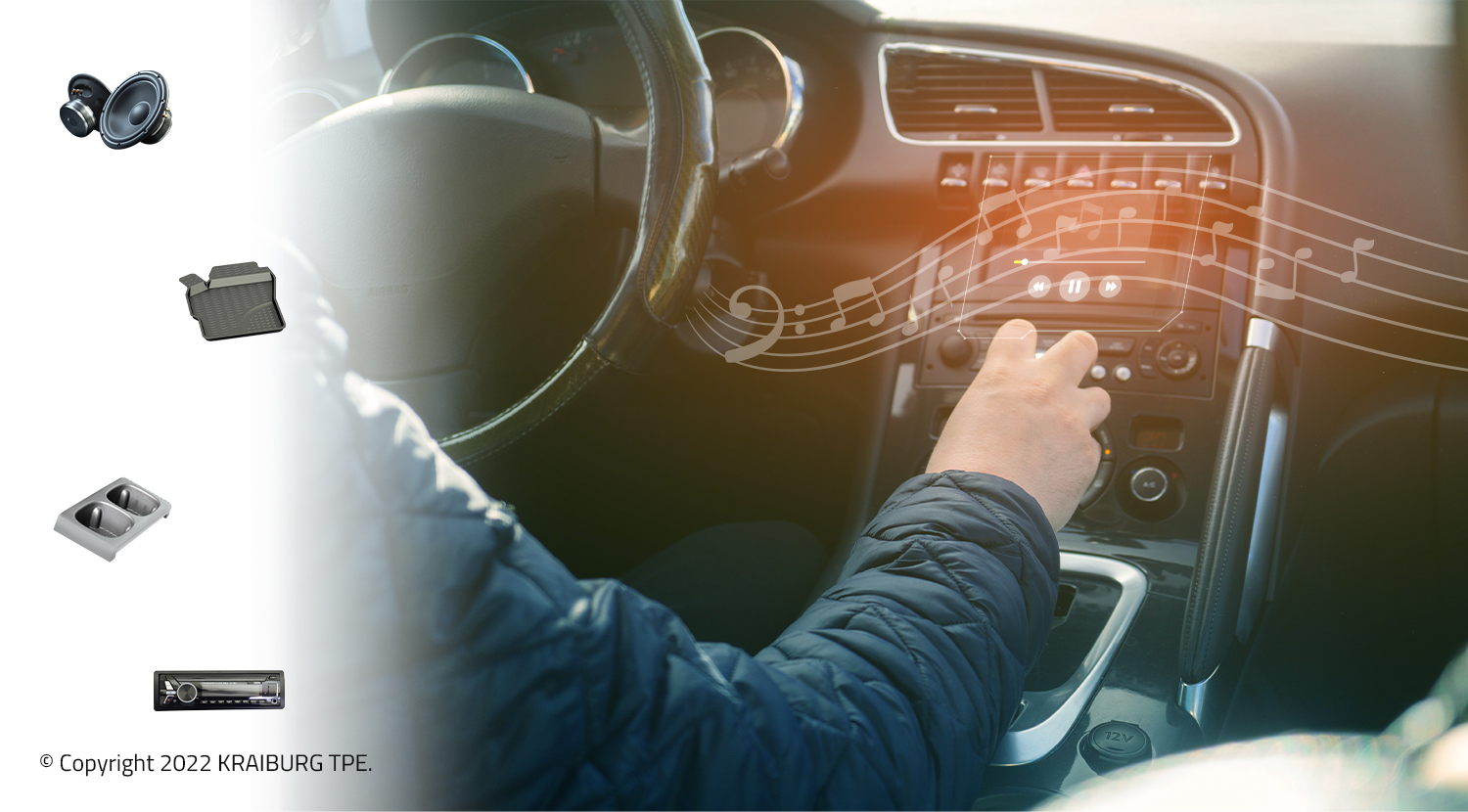 AD1/AP series – the first choice for the Asia Pacific market
The THERMOLAST® K AD1/AP series from KRAIBURG TPE is best suited for rigid and soft composite components with high surface quality requirements.
Compliant with recognized OEM emissions and odor specifications, the series is an ideal compound for automotive rubber mats, cup holders and pedals, and automotive audio system applications.
This series can also be used to make damping elements to reduce abnormal noise in the car.
In addition, the series is also suitable for PC, ABS and ABS/PC
Isopolar thermoplastics have good lagging properties and are available in a variety of hardnesses in black and primary colors. In addition, color matching services can also be provided according to the specific color requirements of the OEM. The series also passed UL/HB
Certification.
The AD1/AP series is mainly targeted at the automotive interior and industrial parts markets in the Asia Pacific region.