Nanjing Julong: Revenue in the first half of the year increased by nearly 5% year-on-year, and will invest 600 million yuan to build a 150,000-ton modified plastic project
Latest News: On August 17, Nanjing Julong disclosed its 2022 semi-annual report. The announcement shows that Nanjing Julong achieved operating income of 784 million yuan, an increase of 4.37% compared with the same period last year; net profit attributable to shareholders of listed companies was 20.3814 million yuan, a year-on-year decrease of 19.68%; net cash flow from operating activities was 19.9594 million yuan Yuan, an increase of 128.57% compared with the same period last year.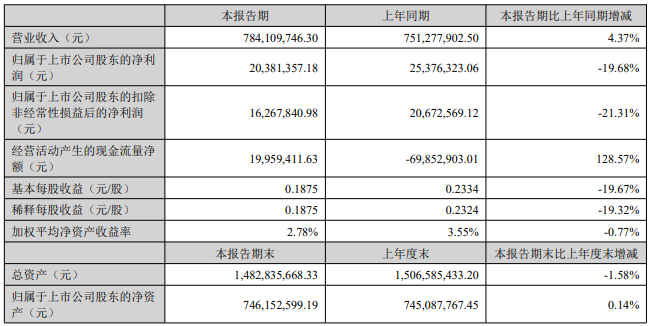 According to the announcement, Nanjing Julong is mainly engaged in the research and development, production and sales of new polymer materials and their composite materials. The main products include high-performance nylon materials, high-performance polypropylene materials, high-performance plastic alloy materials, and plastic-wood environmental construction projects Materials, special engineering plastics, high-performance elastomer materials, carbon fiber composite materials, etc., have been used in automobiles, high-speed rail and rail transit, 5G communications, electrical and electronic, aerospace, environmental protection construction engineering, medical and health and other fields. The company has been developing for more than 20 years, and has always been committed to becoming an outstanding international first-class new material company worthy of cooperation, investment, dedication and trust, providing personalized basic materials and comprehensive materials for national key projects, pillar industries and customers. All-round technical services.
Regarding the reasons for the changes in performance, Nanjing Julong said that although it was affected by unfavorable factors such as the turbulent international situation, the Russian-Ukrainian war, the rebound of the domestic epidemic in many places, and the fluctuation of upstream raw material prices, it has consolidated the core automobile market and expanded the high-speed rail. At the same time, it has accelerated the development of new materials, the market layout of high-end materials, the upgrading of functional materials, and the promotion of the diversification of plastic-wood products by plastic-wood co-extrusion technology. High-quality development has been achieved, and it has been well prepared for the realization of the overall annual business plan. paved the way.
Rising raw material prices by various means to reduce costs and increase revenue
The company's main raw materials include basic chemical raw materials such as nylon and polypropylene. As oil derivatives, the market price is greatly affected by the domestic and foreign macroeconomic situation and oil price fluctuations. If the price of the company's main raw materials fluctuates significantly, it will have a large adverse impact on the company's raw material procurement plan and implementation, and put pressure on the company's cost control. If the risk of the company's product cost increase cannot be fully and timely transmitted to downstream customers through product price increases, it will affect the company's profitability and increase the company's operating risks.
At the same time, Nanjing Julong uses a combination of daily procurement, strategic procurement, and technical procurement to minimize procurement costs and procurement risks. It also pays close attention to fluctuations in international crude oil prices, and signs long-term supply agreements with major suppliers. Reduce the impact of raw material price fluctuations on the company. At the same time, we will strengthen technology and product innovation, continuously optimize product structure, and improve the technological content, added value and pricing power of products.
Has a high-quality core customer base as an important supplier of modified plastic materials
After more than 20 years of development, Nanjing Julong has become one of the important suppliers of modified plastic materials for automobiles in China, especially high-performance nylon and other serialized materials. At present, it maintains long-term and stable cooperative relations with many foreign-funded, joint-venture and self-owned brand automobile and new energy vehicle OEMs, and first-class parts suppliers. The products are used in SAIC, GM, Volkswagen, BYD, Ford, Nissan, Shenlong, Great Wall, Geely , GAC, NIO, Ideal, Xiaopeng and other mid-to-high-end models and new energy models. During the reporting period, Nanjing Julong's automobile field revenue was 487 million yuan, a year-on-year increase of 18%, accounting for 62% of the company's sales revenue.
At the same time, Nanjing Julong has become the main supplier of modified nylon materials for domestic high-speed rail transit, has a stable core customer base, and has accumulated long-term service experience advantages. Its self-developed high-performance modified nylon products are used in high-speed railways such as Beijing-Shanghai, Beijing-Guangzhou, Shanghai-Kunming, Beijing-Shenzhen Line, Hamu Line and other heavy-haul railways such as Menghua Line, and also participated in the related products of Sichuan-Tibet Railway. development. During the reporting period, the revenue of Nanjing Julong high-speed rail and rail transit was 76 million yuan, a year-on-year increase of 204%, and the market share further increased.
In addition, Nanjing Julong also provides series of special products such as high-performance nylon for well-known manufacturers such as Black & Decker, TTI, Greebo, SUMEC, Chervon, Lenovo, and State Grid in the application field of communication electronic and electrical products.
The business map expands again, the balance of production and sales will achieve huge profits
In order to continue to promote Nanjing Julong's overall development strategy and further improve its business layout, Nanjing Julong recently announced that it plans to set up a wholly-owned subsidiary in Lai'an County, Anhui Province, and invest in the construction of an annual output of 150,000 tons of modified engineering plastics and 20,000 tons of modified engineering plastics. Tons of special engineering plastics and 30 tons of carbon fiber composite materials, the total investment of the project is 600 million yuan, of which 500 million yuan is invested in fixed assets, which will be constructed in stages. The project covers an area of ​​about 166 acres, and will build new production lines for modified engineering plastics, special engineering plastics and carbon fiber composite materials, including new factories and production equipment.
It is worth noting that, according to Nanjing Julong's reply to the Shenzhen Stock Exchange's letter of concern, after the completion of this project, according to the current market price of the relevant main products and the company's sales price, the annual revenue of the main products is expected to reach 2.9 billion yuan. At the same time, the downstream industries of Nanjing Julong's main products involve many fields such as automobile, high-speed rail and rail transit, 5G communication, electrical and electronic, aerospace, environmental protection construction engineering, medical and health, etc., with broad market prospects and market space. Up to now, there have been intentional customers in China to contact Nanjing Julong, and it is expected that the production capacity of this project will be able to achieve a balance between production and sales.