SABIC's sales revenue in the second quarter increased by 32%, and shareholder dividends increased by 29% year-on-year
Latest News: On August 9, Saudi Basic Industries Corporation (SABIC) released its second quarter 2022 financial report with continued growth in total sales and net income, demonstrating SABIC's strong operating performance in various fields, and the A firm commitment to sustainability and innovation.
Key figures for the second quarter of 2022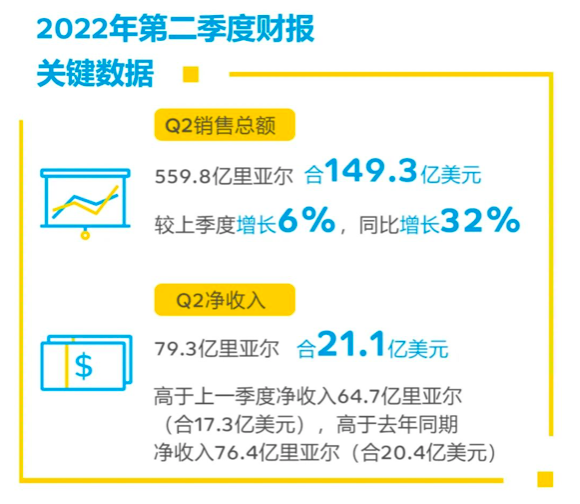 Q2 total sales: 55.98 billion riyals ($14.93 billion), up 6% from the previous quarter and up 32% year-on-year;
Q2 net income: 7.93 billion riyals ($2.11 billion)
Higher than net income of 64.7 billion riyals ($1.73 billion) in the previous quarter and higher than net income of 7.64 billion riyals ($2.04 billion) in the same period last year
Yousef Al-Benyan, Vice Chairman and CEO of SABIC
Introduction, "The excellent performance in the second quarter shows SABIC's strong operational performance in various fields. We won two silver awards in the Edison Invention Award! The three bronze awards fully reflect the company's sustainable development and innovation. Commitment. These accolades also reflect our commitment to our long-term goal of carbon neutrality by 2050.
Dividends to corporate shareholders remain a priority for SABIC. June 2022 AAAATIC
SABIC's board of directors has proposed a cash dividend of 2.25 riyals per share in the first half of 2022, which is about 29% higher than the 1.75 riyals per share in the same period last year. "
Drive innovation and continue to invest in sustainability
In order to consolidate the company's growth momentum and market momentum, SABIC continues to invest in sustainable business solutions and strategic partnerships to bring innovative technology to customers around the world, launching the world's first product made of polypropylene recycled from recycled ocean plastics. Packaging label material.
In July, the world's first blue ammonia production certification was awarded by TÜV Rheinland, a leading independent testing and certification organization.
In May, a new chemically upcycled LNP ELCRINiQ resin made from marine plastic waste was launched to help reduce pollution and support the global circular economy.
Announced a new cement reinforcement solution, carbon black N330, which will improve the quality and firmness of future concrete infrastructure in the Kingdom of Saudi Arabia.
Committed to carbon neutrality, building a low-carbon future together
In June, SABIC launched BLUEHERO™, a comprehensive solution of products and services for the automotive industry, aimed at accelerating the transition to electrification of global energy use.
In addition, before the 2022 London E-Prix (Formula Electric Race), the company announced the launch of a long-term innovative cooperation with the world's first zero-carbon sport – Formula E (Formula E), which is also the
SABIC is the first title sponsor of the event.
Excellent achievement of corporate social responsibility goals
During the quarter, SABIC achieved excellence in its corporate social responsibility goals, investing $19.2 million in 45 projects, including community partnerships with the Jazan Center for Autism, International Education Conference & Exhibition, and the Saudi Federation of Movement for All .