The civil construction of the 100,000-ton/year BDO project of the fifth phase of Sino-Thai-Meike Chemical Industry started
Latest News: On July 15th, the "first shovel" of the 100,000-ton/year BDO project of the fifth phase of Sino-Thaimeike broke ground. .
It is understood that the preliminary procedures of the project were handled smoothly, and the long-term equipment has been ordered. At present, the preliminary design is being prepared, the "three links and one leveling" on site have been basically completed, and the excavators and loaders are ready to be in place. The project builds 4 sets of process units of 25,000 tons/year of calcium carbide method acetylene, 100,000 tons/year of 1,4-butanediol, 240,000 tons/year of formaldehyde, and 13,000Nm3/h of hydrogen production; supporting thermoelectric devices, tar furnaces, Circulating water, desalinated water station & reuse water, air pressure nitrogen station, production pump station, whole plant torch, power transformation and distribution, cabinet room, whole plant ground pipe/outer pipe, etc. The project covers an area of ​​333 mu, with a total investment of 2.693 billion yuan , the average annual operating income is 2,452,590,000 yuan, the average annual profit and tax total is 463,840,000 yuan, and 266 jobs are created.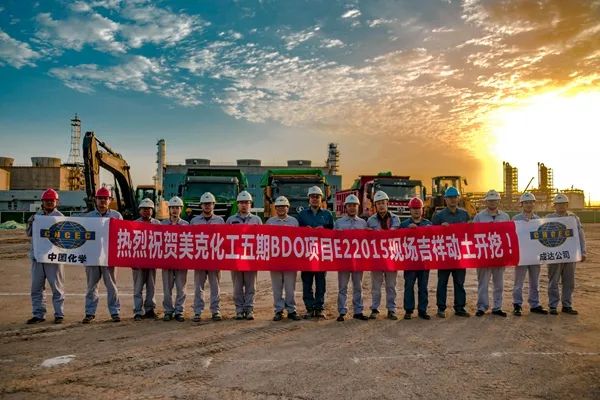 Groundbreaking Ceremony (Photo by Kou Chengwei)
The road ahead has suddenly become clear, and it is determined that we must work harder. Zhongtai Meike Chemical will focus on the overall control of the trinity (safety, quality, progress), focus on process execution and contract performance, lock in key time nodes, push the progress backwards with nodes, and urge the construction unit to make full use of machinery, manpower, Inverted schedule, wall chart combat. And take this as an opportunity to overcome difficulties, work tenaciously, and forge ahead, and become an enterprise that "can do things, can do things".
After the project is put into operation, it will rejuvenate the oil and natural gas sector, activate new kinetic energy, further release the advantageous production capacity of Xinjiang Zhongtai Group's BDO, and become an important part of the strategic layout of Zhongtai Group's industrial chain extension, supplementary chain, strong chain, and chain expansion. In the first link, it will continue to occupy the maximization of the scale of domestic BDO products and the commanding heights of technology.