The investment exceeds 3.5 billion! Weiyuan's 300,000-ton HPPO project was approved
Latest News: On September 14th, Dongying Ecological Environment Bureau plans to issue approval opinions on the environmental impact assessment documents of several construction projects, including Lihua Yiweiyuan Chemical Co., Ltd. 300,000 tons/year direct Oxidative propylene oxide project.

01. Basic information of the project
Project name: 300,000 tons/year direct oxidation propylene oxide project;
Construction unit: Lihua Yiweiyuan Chemical Co., Ltd.;
Construction nature: new construction;
Construction site and land occupation: Shandong Lijin Economic Development Zone, east of Jiner Road, north of Lishi Road, south plant area of ​​the original propane dehydrogenation project; covers an area of ​​220,110m2;
Project investment: The total investment is 3530.3031 million yuan, and the environmental protection investment is 178.5 million yuan;
Annual operating hours: 8000 operating hours per year;
Production system and staff quota: The new labor quota of this project is 141 people, and the operation shift system adopts four shifts and three shifts.
02. Project construction scale and project composition
(1) Construction scale
The 300,000-ton/year propylene oxide unit and the 300,000-ton/year propylene oxide unit are single-line production units.
Equipped with a 900,000-ton/year hydrogen peroxide plant, with three sets of production units, a single unit is hydrogen peroxide with a production capacity of 300,000 tons/year and 27.5%, and each unit is equipped with 150,000 tons/year
The concentration process of 50% hydrogen peroxide can produce a total of 450,000 tons/year of 50% hydrogen peroxide products.
(2) Project composition
The project will build a 300,000-ton/year propylene oxide plant and 90
10,000 tons (27.5%) hydrogen peroxide plant, supporting auxiliary projects, storage and transportation projects, environmental protection projects, etc.; some public works and environmental protection projects rely on existing (under construction). The main components of this project are shown in the table below.

03. Product solutions and specifications
This project builds a 300,000-ton/year hydrogen peroxide oxidation propylene oxide plant, supporting a 900,000-ton/year (3×300,000-ton/year) hydrogen peroxide production unit; the hydrogen peroxide production unit can produce
27.5% hydrogen peroxide can also produce 50% hydrogen peroxide. Enterprises adjust the product specifications of hydrogen peroxide according to market demand, and can produce only one product throughout the year. The product plan of this project is shown in the table below.

In fact, as early as July 18, the company issued an investment announcement for the project. The project plans to use the products produced by the company's propane dehydrogenation project as the main raw material, with a planned construction period of 20 months.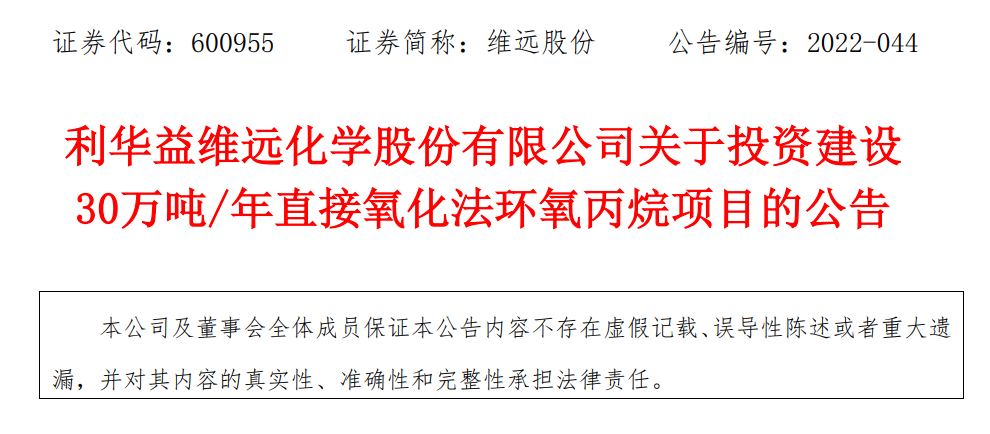 As an important chain extension project of the company, this project can maximize the mutual supply and use of raw materials, products and energy. The comprehensive utilization of circulating materials and thermal energy between devices is strengthened. After the project is completed and put into operation, the project will add propylene oxide products every year
300,000 tons, improving the utilization level of hydrogen resources, it is expected to achieve an average annual sales income of 3.578 billion yuan and a profit of 409 million yuan.